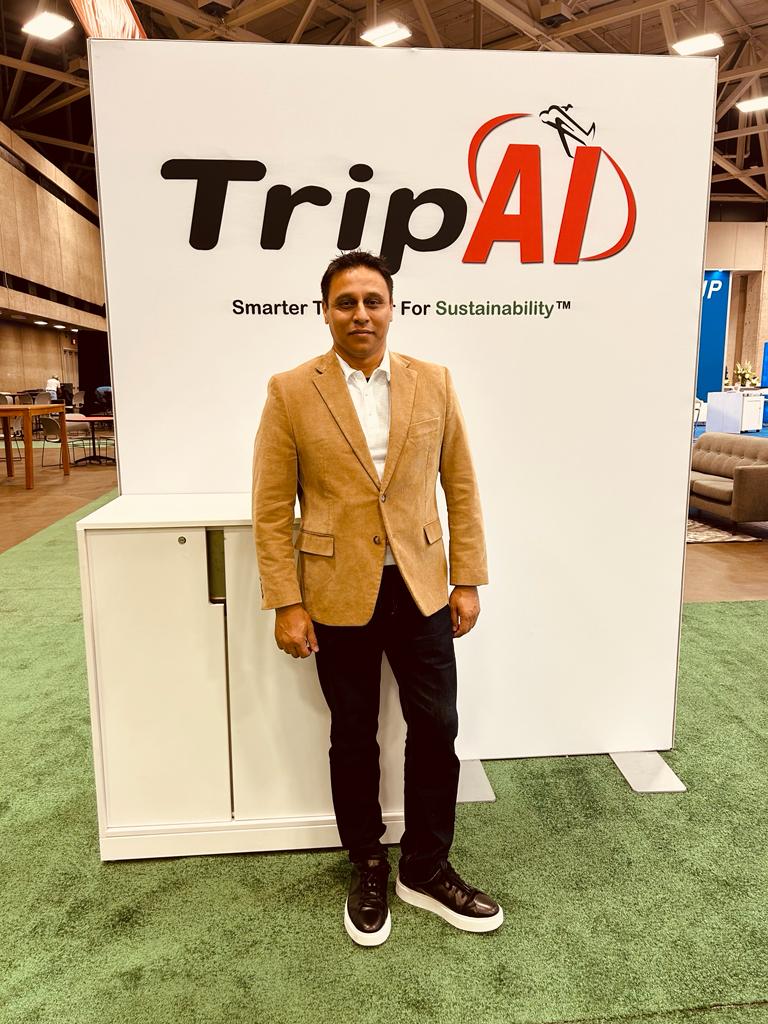 TripAI at GBTA Convention 2023:
A Journey towards Sustainable Travel
TripAI's dedication to reducing carbon emissions and fostering an eco-conscious travel ecosystem resonated across many groups. Every interaction, presentation, and initiative served as a testament to TripAI's mission: contributing to a greener planet through innovative solutions.
Samar Khan, Founder & Chief Sustainability Officer shared insights with attendees that sparked informed decisions and strategies. These discussions underscored the convention's role not only as a platform for networking but also as a fertile ground for intellectual exploration.
Points to Ponder
A notable trend that emerged was the increasing focus on sustainability in business travel, particularly in the United States. With benchmarks like CORSIA and the implementation of the EU Regulation for Carbon Emissions Monitoring and Reporting, the industry is undergoing a paradigm shift toward sustainable practices. TripAI is well-prepared to contribute to these developments, both in Europe and the mainland US, positioning itself as a driving force for change.
One compelling insight that arose was the importance of aligning sustainability initiatives with Return on Investment (ROI) strategies. Travel management companies (TMCs) and online booking tools (OBTs) are recognizing the need to harmonize sustainability goals with sound business decisions. The integration of Generative AI and machine learning was discussed as a transformative path to achieve this balance, personalizing experiences, and recommendations while advancing sustainable practices.
Next Stop-

World Aviation Festival in Lisbon

As TripAI continues its journey, the company's investments in the power of Generative AI and ML-driven approaches are palpable. These investments hold the promise of revolutionizing the travel landscape. By harnessing the capabilities of AI, TripAI envisions a future where personalization, content curation, and recommendations reach new heights, setting a trajectory for the next decade that resonates with innovation and sustainability.

With the echoes of the GBTA Convention 2023 still resonating, TripAI looks ahead to its forthcoming trips at the World Aviation Festival in Lisbon and the IATA Sustainability Symposium in Madrid, scheduled for September and October respectively.

As the company's journey continues, so does its commitment to pioneering AI-driven solutions that pave the way for a smarter, more sustainable world. Join the conversation and be a part of TripAI's vision:

Smarter Together For Sustainability™

To learn about our Sustainability as a service Innovation, email us at support@tripai.io to schedule a demo.